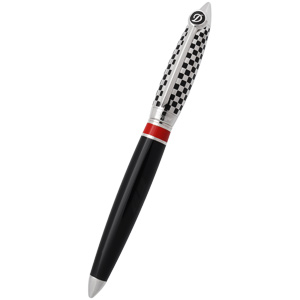 Streamline R by S.T. Dupont Fountain Pen & Paper Weight Race Machine Limited Edition 251680RM
| | |
| --- | --- |
| List Price: | $1,600.00 |
| Our Price: | $1,120.00 |
| Sale Price: | $679.00 |
| You Save: | $921.00 (58%) |

Style
S.T. Dupont Pens
Model #
251680RM
Series:
Race Machine
Limited Edition:
1,929 Pieces - The date of the first Grand Prix of Monaco Formula 1 motor race
Material:
Black & Red Lacquer
Style:
Fountain Pen
Nib:
14kt gold nib rhodium coated- engraved with D logo
Nib Size:
Medium
Ink Color:
6 Blue Cartridges included
Cap:
Checked Flag Print - Engraved S.T. Dupont Paris
Includes:
Bronze Race Car Paperweight
Length:
6"
Diameter:
14 mm
Manufactured:
Made in France
Model# Alias:
251680RM
Warranty:
1 Year WristClocks.com

All measurements provided are approximate and may vary slightly from the listed information.

LIMITED EDITION of 1,929 PIECES

The new Race Machine Limited Edition collection by STDupont pays tribute to the world of racing. Since its foundation, Formula 1 has established itself as the scene of motorsport. Bringing together the best drivers and engineers in the world, every year this prestigious competition captivates more than a hundred million people worldwide.
A Limited Edition by S.T. Dupont of 1,929 pieces (the date of the first Grand Prix of Monaco Formula One motor race), each piece is packaged in a custom S.T. Dupont Race Machine presentation box which includes a miniature bronze race car paperweight. A tribute to the highest class of auto racing, the S.T. Dupont Racing Machine limited edition is inspired by the Formula One circuits and the emblem of victory: the checkered flag.

This Pen is also known as the Grand Prix Limited Edition McLaren Fountain Pen from the Stream Line – R Collection.

Made of Ceramium ACT, a new material that combines ceramics and aluminum, for a lightweight yet strong material which is very scratch resistant. Featuring black and red placed lacquer on the barrel and 159 squares of black lacquer on the palladium-plated cap ,with the hallmark D insignia on the clip.
A fantastic gift for every Formula 1 enthusiast!

As all of our pens, this S.T. Dupont Race Machine Fountain Pen is BRAND NEW, and comes in its original packaging!

Features:
*Black & Red Lacquer Fountain Pen
*14kt gold nib rhodium coated- engraved with D logo
*Nib Size:Medium
*6 Cartridges Included - Blue Ink
*Checked Flag Print on Cap
*Engraved: S.T. Dupont Paris on cap
*Miniature Bronze Race Car Paperweight
*Manufactured in France
*Approx. Dimensions:6 in (Length) x 14 mm (diameter)
*Model #: 251680RM